Check with Your Dentist Whether All-on-Four is Right for You!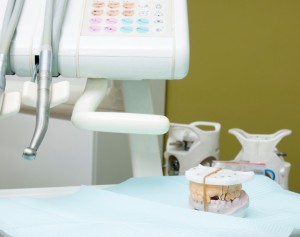 The 'Teeth in a Day', dental implant technique has been in use for over a decade. Since it takes a single appointment to complete what is also referred to as an 'All-on-Four' procedure, many patients see it as a simpler and more convenient alternative to dentures. Others who are not too keen on dentures or lack the bone density for traditional implants also prefer this option.
Is the Teeth in a Day Procedure Painful?
As the name suggests, the Teeth in a Day or All-on-Four procedure can be completed in just one visit when compared to dentures which can, in some cases, require multiple appointments, a bone graft and a few months to get used to.
During this procedure, your teeth are removed and the new set is immediately fixed in place on implants while you are still under an anesthetic. Since you are sedated, you won't feel anything at all.
Consult an experienced dentist about this new alternative to dentures. At Harrison Denture Clinic, we are happy to answer any questions you might have. We also take great care to ensure your comfort both during and after the procedure.
What is the Recovery Time for an All-on-Four Treatment?
More individuals are opting for the All-on-Four on because it involves very little downtime. As the name implies, it only requires four dental implants per jaw to support a fully customized set of replacement teeth. You can walk out of our denture clinic with a set of new teeth and the beautiful smile you've always wanted, in a single appointment. You will also be able to eat a soft meal on the same day.
Recovery time varies with patients and might be shorter for some. At Harrison Denture Clinic, treatments are personalized and cater to your unique needs. Our denturist, Dr. Jim Harrison will explain your treatment plan in detail.
How Do I Decide if Teeth in a Day is the Right Procedure for Me?
All-on-Four is not only an alternative to dentures but it has also changed the traditional dental implant process in a big way. In the old method, most patients would have to wait 3-4 months for the implants to knit with the bone.  Today, if your bone is in good condition, you can get Teeth in a Day.  As a result, it has proven to be an effective solution to many dental issues.
If you current wear dentures or have recently been recommended to use dentures or consider dental implants, this treatment may be a good alternative.  For those who use dentures, it provides complete freedom of movement. You can eat anything you want, enjoy the taste of food, and speak with clarity. There is no soreness and no dental adhesives to deal with anymore. You can look and feel your best.
If you have bad teeth (or few teeth) which need to be replaced with complete dentures, we can extract them (if necessary) and put in the new implant bridge teeth at the same time. You will never have to wear dentures and suffer the discomfort or embarrassment some patients go through.
Ask the knowledgeable and skilled staff at Harrison Denture Clinic, by calling us at 705-445-1121, for details about Teeth in a Day.