Full Dentures: Your Teeth Replacement Solution
Book a Consultation with Your Barrie Denturist
What are Full Dentures?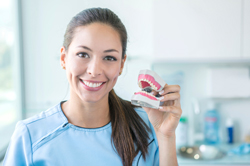 Full dentures, also known as "false teeth" are an option for the replacement of natural teeth. Full dentures are appropriate when all natural teeth are missing. They are removable and customized. These replacement teeth require suction to stay in place in the mouth and come in a variety of types for every budget.  Full dentures are natural looking and offer you comfort and confidence while eating, speaking and laughing.
Full Dentures—Various Options Available?
There are different types of full dentures that can be made to suit your unique needs, budget, and lifestyle. We will consult with you to understand your needs and direct you towards the dentures that are best suited to your mouth, overall appearance and lifestyle.
Immediate Dentures: This set of full dentures will be made by your denturist before your teeth are removed. When you first visit your Barrie denture clinic, measurements of your jaw and teeth will be taken. A model will be made to match your previous teeth and ensure your dentures fit your jaw. They must look and feel natural in your mouth. Immediate dentures are inserted right after teeth extraction. That means you won't be without teeth, but adjustments will likely be needed once the healing process is complete. This duration is typically around 6 months after the procedure.
Conventional Dentures: Conventional dentures are used after the healing process is complete, since gum tissue and your jawbone may shift after the procedure is completed.
Caring For Your Complete Dentures
Your local denture services in Barrie will guide you through the maintenance process for properly cleaning your new dentures. Essentially, you will care for your full dentures in a similar way to natural teeth. Cleaning prevents plaque and tartar from building up and decreases the chances of staining, bad breath and other issues. Follow these basic steps: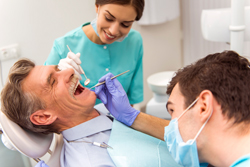 Rinse Your Dentures: Remove and rinse your dentures daily and use a denture brush or soft-bristled toothbrush to clean them. Avoid household cleaners or toothpaste, which are abrasive and can cause damage. Pay special attention to clasps and other small areas where bacteria is prone to collect. Thoroughly rinse your dentures before putting them back in your mouth or storing them.
Clean Your Mouth: Gum disease is still a risk to watch out for, even without natural teeth in place. The bacteria from your dentures can stay on your gums and other areas of your mouth, so clean and massage your gums. A soft toothbrush or clean, damp cloth can be used for cleaning.
Remove them Overnight: Give your mouth a break by soaking your dentures in warm water overnight. When you aren't wearing your set of dentures, store them in water to avoid having them dry out or warp. Avoid using hot water or denture cleanser if your set has metal clasps, as they can get damaged.
The team at Harrison Denture Clinic has years of experience providing customized, well-fitted and natural-looking full dentures for clients in Barrie. If you need dentures, we can provide a set that is right for you, with friendly service, expert advice and follow-up care to keep your new smile looking and feeling great. Speak to our Barrie denturists today for a consultation where you will have an assessment and be able to ask any questions you have about dentures.
Looking for expert and trusted service for your full dentures? Call Harrison Dentures today at (705) 445-1121 or fill out our online form.