Do You Need Denture Replacement or Repairs?
Come to Our Barrie Denture Clinic for an Expert Assessment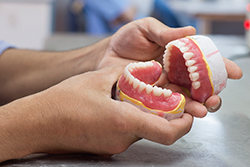 Looking for a Barrie denture clinic to replace or repair your dentures? At Harrison Denture Clinic, our experienced team offers the right care in a comfortable environment. We can help you determine whether denture replacement is really necessary or you can just have your current set repaired. As leading denture care providers in the area, we offer a range of replacement and repair options including rebasing and relines. We also take the time to educate patients about available options so that you can feel confident about your treatment. You can count on us to help improve your oral health and quality of life.
What is a Denture Rebase?
If your denture teeth are in good condition and only the base material (i.e. the pink base material) has worn out, then you have the option of just rebasing your dentures. In a denture rebase procedure, all the base material is replaced while the teeth remain intact.
When can Denture Relines be done?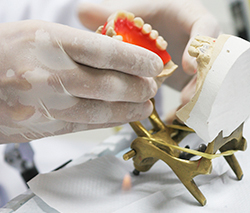 Relines are typically recommended when your bone or tissue changes on account of shrinkage. The process consists of adding new base material to the tissue side of a denture so it fits properly. Since relining affects only the fit of your denture, it will not change the appearance. The bite position, existing teeth and acrylic base(s) must, therefore, be in good condition and not worn or stained.
Who Needs Denture Repairs?
Denture repairs are usually required when breakage or chipping occurs, there is wear and tear, or one or more teeth need to be added to your existing set. In most cases we can restore an existing broken or cracked denture to its original state.
When is Denture Replacement Necessary?
Most dentures need to be replaced every 5 to 10 years depending on changes to your mouth and jawbone. Worn out denture teeth also require the entire device to be replaced. 
Harrison Denture Clinic can meet with you during a no-obligation consultation and help assess if you are a candidate for denture replacement or repairs. We can also check whether rebase and relines will work for you.
Our Barrie denture clinic is well-known professional services offered in a comfortable setting. We understand that dentures impact your oral health and comfort as well as your appearance and provide you with personalized attention. In addition to offering high-quality dentures, we help optimize performance and lifespan with proper care, regular checkups and maintenance tips.  Over the past decade, we have helped many individuals look and feel their very best.
Come to our Barrie denture clinic team for replacement or repairs. Schedule your consultation today at 705-445-1121 or fill out our online form.