Recall and Recare Services for Your Dentures
Schedule Your Follow Up Denture Care for a Great Fit, Always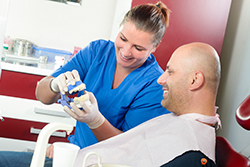 Your dentures play a critical role in your daily life. Talking, laughing and eating are all made possible with the help of your false teeth, so keeping them performing their best is important. Don't let your dentures hold you back from enjoying your days and expressing yourself to the fullest.
Your dentures can't perform if they aren't properly looked after, though. Your jaw and oral tissues shift, heal, and develop over time, which can alter the way your dentures fit. If you experience discomfort or sense a shift in the way your dentures are functioning, contact the team at Harrison Denture Clinic right away. We can schedule an appointment and make the appropriate adjustments or repairs to ensure you can smile confidently and get back to your routine.
Consider Recall and Recare Services from Harrison Denture Clinic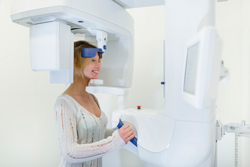 Prefer more forward-thinking care? The team at Harrison Denture Clinic is happy to offer comprehensive denture services, from selection to production and aftercare. Our recall and recare services allow you to schedule a maintenance checkup appointment before even leaving our denture clinic. That way you are covered for any noticeable changes or minor adjustments and your dentures are sure to fit and function as intended from day one onwards.
Our recall system allows us to book your recare appointment six months from the current date. At checkout, we will arrange a date with you, which can be adjusted closer to the time or whenever your calendar becomes firm. Don't worry about last minute events or a changing work calendar. Rest assured, you will be reminded to get the proper denture service you need at a time that works for you and fits within your busy schedule.
Also known as continuing care, preventative care, or professional cleaning, these recall appointments will allow us to perform a thorough examination on your mouth and dentures. Checking the fit, function, and appearance of your dentures will allow us to note any wear patterns, changes and adjustments that need to be made.
Contact Harrison Dentures today to learn more about getting the denture services, care and attention you deserve. Our friendly staff can tell you more about our recall and recare services or assist you as you consider your tooth replacement options. We provide patients in Barrie and surrounding areas with a wide variety of denture services. Backed by years of experience and dedication to our patients' denture care, we can ensure you are happy with your false teeth now and in the future.
Looking for expert and trusted service for your recall and recare service? Call Harrison Dentures today at (705) 445-1121 or fill out our online form.