Try Soft Lined Dentures for Better Fit and Comfort
Barrie Denture Services for Quality Replacements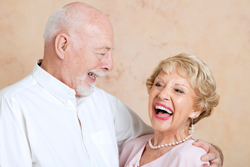 Are you uncomfortable in spite of repeated denture adjustments? Soft lined dentures might be ideal for you. At our Barrie denture services, we have performed adjustments for new and current dentures as well as relines and rebases. Patients who have had denture replacement tend to experience greater comfort throughout the day as well as when chewing. You can count on Harrison Denture Clinic to provide you with the latest and best oral care.
What are Soft Lined Dentures?
Made of a medical grade soft-polymer material, soft liners are applied to the base of your dentures. They act as a shock-absorbing cushion making your dentures more comfortable as well as efficient.
Anatomical irregularities in the mouth, loss of bone (with age) and sore gums can make wearing traditional dentures a painful experience for some patients. Those who have opted for soft lined denture replacement experience less discomfort and are able to tolerate them better. Depending on your physiology, they can last for two to four years.
Who Can Have Soft Lined Denture Replacement?
Soft lined dentures are appropriate for a number of patients including: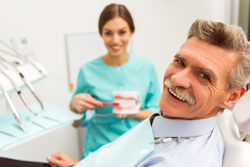 Extra-sensitive tissue and gums
Chronically sore gums
Flat gum tissues
Gums with sharp bony areas
Following surgery for removal of excess bone
After implant replacement
For bone healing after tooth extraction
Advantages of Soft Lined Dentures
Virtually all patients who use soft liners respond well to them.
They make wearing dentures more comfortable
Can be used for new dentures or retrofitted into your current set
Are easy to maintain
Can be worn temporarily and permanently
Keep your dentures in place
Better fit allows you to chew better
Continual quality improvements over the past 20 years have enhanced lifespan providing better comfort and value
The team at Harrison Denture Clinic can meet with you during a no-obligation consultation and help assess if you are a candidate for soft lined dentures. You will have the opportunity to ask questions and clarify any doubts about denture replacement, rebasing and relining.
Our Barrie denturist and his team are well-known for delivering the highest quality of personalized care in a comfortable setting. In addition to offering top-quality soft lined dentures, we provide proper care, regular checkups and maintenance tips to help them look great, fit well and function beautifully.
Come to our Barrie denturist for soft lined dentures. Schedule your consultation today at 705-445-1121 or fill out our online form.