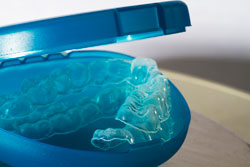 A snoring mouth guard helps you breathe properly so that you can get a good night's sleep. People who wear a mouth guard for sleeping say it has significantly improved their health and quality of life. There are many different types including those for snoring, sleep apnea, bruxism and TMD (temporomandibular disorder). The effectiveness of the device depends on making sure you have the correct one for your condition. Consult your dentist to find out which of these oral devices is right for you.
What is a Snoring Mouth Guard?
A snoring mouth guard is designed to hold your lower jaw forward and widen the back of your throat i.e. the airway. This helps reduce the resistance and turbulence which cause the snoring sound. By helping you breathe properly, it can reduce or completely stop your snoring.
Which is the Right Mouth Guard for Sleeping?
About 50% of people snore. The reasons for snoring vary from just having a cold to more chronic conditions such as obstructive sleep apnea (OSA). There are many over-the-counter mouth guards that claim to provide an instant cure for snoring. However, just wearing any type of mouth guard can be dangerous for people with a sleep disorder. For instance, a mouth guard for sports which looks similar to one for sleeping is meant to protect your teeth and gums during activities. It is not designed to open your airways when you lie down, which is critical for snorers or individuals with OSA. Substituting one for the other could worsen your condition. Similarly, a child needs a kid's mouth guard, not a bulky and uncomfortable adult one.
Custom mouth guards for snoring and sleeping are likely to cost more than those available at a sporting goods store. After all, they are designed for specific conditions by sleep specialists and dentists. Also your guard will be made just for you. A custom fit not only improves comfort but also enhances effectiveness. Your dentist will make any necessary adjustments to help you maximize the benefits of your mouth guard.
How to Care for Your Mouth Guard for Snoring, Sleeping or Sports
With the proper care, your custom mouth guard for sleeping, snoring or sports will last for a very long time. Here are some tips on how to maintain your oral appliance.
Rinse with cold water after each use
Clean with toothpaste and a toothbrush or cool, soapy water once a week
Rinse and dry thoroughly before placing it back in its container to prevent growth of bacteria
Store  your mouth guard in a firm, perforated container to prevent dust accumulation and damage if it falls
Avoid high temperatures or direct sunlight to minimize distortion
Inspect your mouth guard for holes or tears regularly and replace if necessary
Harrison Denture Clinic offers a full line of mouth guards for snoring and sleeping. A modern onsite lab enables us to provide you with the best quality mouth guards. Our experienced lab technicians work closely with our mouth guard specialists to optimize the fit, comfort and effectiveness of your oral device.  Whether you need a mouth guard for sleeping, snoring or sports activities, you can count on us to provide you with an effective solution that's made just for you.
Want to stop your snoring? Give us a call at 705-445-1121 to learn more about our custom dental mouth guards for sleeping and snoring. Or fill out our online form to make an appointment for your initial consultation.