The worst is over: your dental treatment has been completed and you are ready to enjoy your new, healthy and beautiful smile. However, your teeth and mouth may need some time to recover after a dental procedure. If you have recently had a crown procedure performed, it can be challenging to figure out if your lasting sensitivity is normal or something to be worried about.
Consider the following tips to determine if follow up care is required for your dental crown, or contact the friendly staff at Harrison Denture Clinic with your specific questions or concerns.
Is Your Crown Sensitivity Cause for Concern?
It is important to get as much information as possible upfront so that you are prepared for your treatment and recovery time.
Here's what you should ask your dental professional:
Severity: Inquire about the level of decay in your tooth. Getting a gauge on how much of your tooth requires replacement will help you understand the extent of the procedure and how much time your tooth will need to fully recover. Drilling deeper can lead to increased sensitivity.
Location: If the damage is close to the pulp, the part of your tooth that contains the nerve, you are more likely to be aware of hot and cold sensations or pressure on the tooth. If the decay reaches closer to the pulp, there will be less natural enamel and tooth remaining to create a barrier. The crown will work in the long run, but after drilling, your tooth will take some time to acclimate to the new material.
Triggers: Inquire with your dentist about foods and temperatures that may increase sensitivity and cause pain. Hot or cold foods are typically triggers, but ask your dentist to be certain.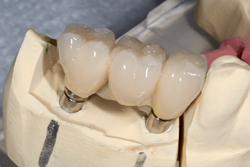 Some sensitivity is to be expected after a crown procedure. If the tooth hasn't settled down and is still causing you discomfort after a week or more following the treatment, you may require follow up care. Schedule a follow up visit with your dentists so they can examine the tooth and determine if another treatment or solution is necessary.
Contact Harrison Denture Clinic for relief from your crown sensitivity. We provide patients in Barrie with a range of denture services and are dedicated to your oral health and comfort. Rely on our friendly staff for everything from crowns to dental implants and dentures.
If you are experiencing tooth sensitivity after a crown procedure, come see us at Harrison Dentures for treatment options. Call us at (705) 445-1121 or fill out our online form.