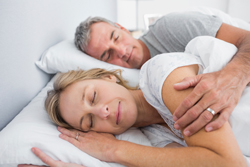 Most people have a laugh and share jokes about snoring. However, if you snore yourself or have to share a bed or room with someone who snores, you know that it can be a serious problem. Aside from the noisy nights, snoring can progress into a serious condition known as OSA. Obstructive Sleep Apnea or OSA can be disruptive and dangerous to your health, so getting your snoring checked out and seeking timely treatment is important. At Harrison Denture Clinic, we have mouth guard solutions to help you sleep soundly, without being troubled by snoring.
What Are the Risks of Undiagnosed Sleep Apnea?
OSA occurs when your breathing is obstructed during sleep. For some individuals, this can happen more than 50 times during a single night! They often wake with a fright and, not surprisingly, the lack of oxygen causes a lot of disruption to their sleep.
If you are unsure whether you or a loved one suffers from OSA, but definitely have been snoring, seek professional advice as soon as possible. If left undiagnosed, OSA can lead to serious health problems, such as:
Heart attack
Stroke
Impotence
Irregular heartbeat
High blood pressure
Heart disease
What Treatment is Available for Sleep Apnea?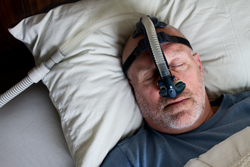 There are several medical options for treating sleep apnea and snoring that your doctor may prescribe. Surgery may be necessary to cure severe cases, but less invasive options like sleeping mouth guards are also available and definitely are worth a try. Harrison Denture Clinic specializes in providing custom, comfortable mouth guards so that you can sleep comfortably.
These are some of the benefits of mandibular advancing devices (MAD) or sleeping mouth guards:
Sleep well: Those who suffer from sleep apnea may feel that the solutions may lead to even less sleep than the condition does. Masks, tubes and the droning motor of a CPAP machine can be effective but may not be the most convenient options for everyone. Luckily, mouth guards are comfortable and easy to transport when travelling.
Custom design: Rather than a one-size-fits-all solution, mouth guards that prevent snoring are made to fit your specific mouth shape and size. They are designed to open your airways by holding your lower jaw slightly forward. This allows the back of your airway to widen and your breath to flow unobstructed. No choking, gasping, or vibrations that lead to loud snoring.
Overall health: A good night's sleep benefits your health overall. It allows you to feel mentally stable, physically recover from a long day, and fight off bacteria or viruses. Having a mouth guard to properly clean and care for will also encourage you to take better care of your teeth.
Harrison Denture Clinic is here to help you with snoring prevention mouth guards in Barrie. We have a team of friendly dental professionals. Our years of experience providing custom oral implants, dentures and mouth guards allow us to treat your sleep apnea with the results you want—better sleep!
Don't continue to suffer from obstructive sleep apnea. Call Harrison Dentures to learn more about snoring prevention and treatment options at (705) 445-1121. You can also fill out our online form to make an appointment for your initial consultation.