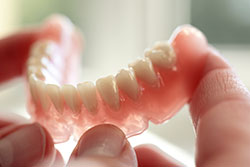 It can be a strange sensation when you first start wearing your new dentures. Your replacement teeth come with a whole host of new concerns and will likely feel like a foreign object in your mouth, no matter how comfortable and customized they are.
Dentures may take some getting used to, but the results can be very positive when you visit the right denture clinic near Barrie. Contact Harrison Denture Clinic to determine if partial or full dentures are right for you and to get more advice about how to quickly master your new teeth. Our experienced staff can provide answers to your questions and help guide you towards the right look, material and solution for your tooth or teeth replacement needs. We have been providing people in and around Barrie with high quality dentures for years and would be happy to help you start your journey with false teeth.
Tips for Getting Used to Wearing Dentures Quickly
While they will look great, full dentures don't always feel comfortable right away. Consider these tips for making your transition period shorter and to get comfortable faster when wearing new dentures:
Move – Move your mouth when you put your dentures in for the first time. Staying still won't help you fully understand how they react to the different expressions and movements of your jaw and tongue.
Chew Gum – Keep some gum with you for when you get your new dentures. It will help you practice for larger, more challenging meal times and also increase saliva production.
Take it Slow – You may want to dive right into your regular routine that includes eating and speaking. Take it slow. Eat with concentrated movements and choose softer foods such as eggs for your first few meals to get used to the sensation and chewing technique. Eat in private so you can get the hang of things and avoid fancy dinner parties until you have had some time to practice.
Research – Read up on pronunciation tips to help you communicate clearly. Speak alone or with someone you trust to determine which words, letters and sounds are giving you difficulty. Look up advice for pronouncing them with false teeth and start to practice as soon as possible.
Sleep – While it is not advised over the long term, and you will still need to make time to properly clean, disinfect and deodorize your dentures, it can be helpful to sleep with your dentures in place for the first few nights. That way your mouth and body will get used to them faster.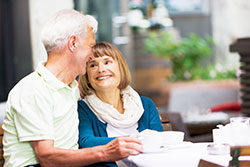 Harrison Denture Clinic can provide personalized care for your new dentures. Whether you have troubles with fit or need a repair, our friendly team can provide the right fix, fast. With a host of denture services and experienced advice, you can rely on our denturists for all your tooth replacement requirements. Learn more about our denture services or visit us today for your initial consultation.
Contact Harrison Denture Clinic for tips or adjustments with your new dentures.  Call us at (705) 445-1121 today or fill out our online form.