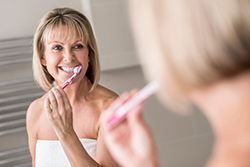 Getting used to a new routine can be challenging. If you have just received your first set of dentures, it can be tricky to get used to a more involved daily cleansing routine. While it isn't always easy at first, it is crucial to keep your dentures looking their best, working properly, and to stop any bacteria from developing on their surface. When they remain in your mouth for an extended period of time or are left without frequent cleaning, your dentures can become damaged and develop a permanent odour. Taking the time to properly care for your dentures is the best way to prevent this common problem.
If you need assistance with denture care or maintenance tips and adjustments, visit Harrison Denture Clinic near Barrie. We offer a range of comprehensive denture services that are backed by years of experience. From learning how to take care of your dentures, to fit adjustments and dental implants, we are here to help care for your oral health.
Tips to Eliminate Denture Odour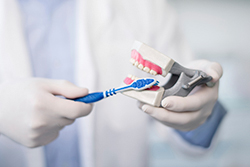 The space between your dentures and your gum tissue is a breeding ground for bacteria. Protected, moist, and a perfect trap for food particles, it is not surprising that these bacteria can cause nasty breath and bad odours.
Luckily, making some simple habits part of your routine will ensure your breath stays fresh and your dentures stay clean:
Remove After Eating: Whether you have full or partial dentures, you should be sure to remove them after every meal for cleaning. Brush the inside and outside surface and replace denture adhesive regularly. Use a soft toothbrush or damp washcloth to wipe the surface of your oral tissues, especially where dentures make contact and food particles can collect.
Brush Twice a Day: Just like regular teeth, your dentures need to be brushed twice daily.
Use Special Cleaners: Unlike your teeth, the surface of your dentures is rough and can collect bacteria easily. Brushing alone won't remove all the bacteria that forms, so using a specially formulated denture cleaner is necessary to disinfect them completely. Removing denture odours without daily denture soaking is an uphill battle you are likely to lose!
Have you tried more frequent cleaning, and still have persistent bad breath? Come visit the friendly and professional team at Harrison Denture Clinic. With years of experience helping people select, maintain and adjust their dentures, we can pinpoint the cause and find a solution so your dentures smell as great as they look. Visit us today to learn more about how to clean and care for your dentures and say goodbye to denture odour once and for all.
Contact Harrison Denture Clinic for denture care tips and comprehensive services, from denture care to dental implants.
Do you or a loved one suffer from denture odour? Follow these tips from Harrison Dentures to cure the problem today. Call us at (705) 445-1121 or fill out our online form.