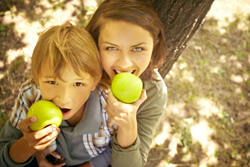 A chipped tooth is a common oral health concern that can be painful at best and extremely damaging at worst. No matter how it happened, getting your chipped, cracked or otherwise broken tooth looked at by a dentist should be your first priority. While the pain may subside and it may not look too serious, damage to the tooth can lead to infection or more serious issues. Avoid more costly or invasive dental procedures by getting your teeth looked at as soon as possible. Contact Harrison Denture Clinic in Barrie for fast, friendly dental services to protect your teeth and get your chipped tooth looking like new.
What Are the Risks Associated With a Chipped Tooth?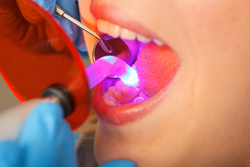 Don't be fooled by the size or appearance of a chip. Sometimes bigger dental problems can be caused by a chip that appears to be small at first glance. Here are some of the risks associated with leaving a chipped or broken tooth untreated:
Infection: It may not be apparent that tissues have been damaged when you chipped your tooth. Unfortunately, infection can occur in the nerve and pulp of your tooth if it is left untreated and does not properly heal. If left unnoticed, the infection can progress and end up requiring a root canal or other invasive procedure.
Structural Damage: The trauma that led to the chip can cause structural damage throughout your tooth. That means the tooth will be weakened and it can be susceptible to a full break, painful cracking or other issues in the coming days or months.
Vulnerability: Once the pain from impact subsides, the chip may appear to just misshape your tooth. Unfortunately, the size and location may actually make your tooth vulnerable to further cracks, chips and damage. If you bite something at the wrong angle or your tooth suffers another impact, serious damage is more likely. Especially if you play contact sports, getting your chipped tooth looked at can save you from further damage.
The team at Harrison Denture Clinic can repair your chipped, fractured or broken teeth. Whether it is a small chip that requires bonding or more extensive damage that warrants the use of a crown or veneers, we will advise you on the correct treatment to ensure it heals properly. Contact us today to schedule your appointment or call us to learn more about the variety of dental services we offer. From bonds to veneers and dentures, you can trust our team of experienced dental professionals in Barrie to ensure good oral health for your entire family.
If you chipped a tooth and are in need of a repair, contact Harrison Dentures today at (705) 445-1121 for expert bonding services or fill out our online form.