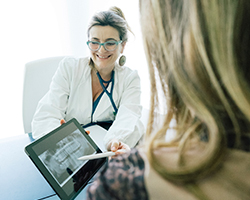 Separating fact from fiction isn't always easy, especially when it comes to new health care developments. Digital dentures are one of the latest advancements in denture care, and have made the process of creating custom dentures more precise. New technology means new questions though, and you may have heard some mixed information about digital dentures.
The team at Harrison Denture Clinic in Barrie can clear up your concerns while directing you to a tooth replacement solution that meets your needs. From proper fit to seamless function, our friendly dental professionals can ensure your dentures suit your mouth, no matter what type you choose and how they are made.
The Truth about Digital Dentures
Whether you have heard the following myths or have another specific question about digital dentures, contact our team today to learn more.
They Are Expensive – You might assume that digital technology brings with it a big price tag. Contrary to popular belief, digital dentures are not always more expensive than regular dentures! Take into account future costs for repairs, replacements, and adjustments; so you may find that digital dentures are a more cost-effective solution than their traditional counterparts. 
They Are Unnatural Looking – These tech-savvy teeth won't leave you looking like a robot. While many patients are worried that digital dentures will look exactly the same as traditional dentures, this is not the case. Digital manufacturing gives denturists more control over the shape, size and form of your false teeth. Since they are not limited to pre-manufactured teeth like some traditional dentures, a more natural and personalized look can be created.
They Take Longer to Make – Concerned about how long it will take to get your new teeth in your mouth? Don't believe hearsay about digital dentures taking longer to make. Within just 5 business days, they can be made and placed, from the first appointment to placement at the second appointment. Traditional dentures require a bit more patience, as they can often take up to 30 days or more to be completed.
Don't hesitate to call our Barrie denture clinic to learn more about how new technology can be used to make your dentures look and feel great. We can give you the information you need and ease your apprehensions while providing denture services that suit your oral health, budget and lifestyle.
Contact Harrison Denture Clinic for digital dentures or to learn more about your options for tooth replacement. Our dental healthcare professionals offer everything from dental implants to partial dentures and crowns, so you can smile full and bright with confidence!
Harrison Dentures is here to de-bunk the myths surrounding digital dentures and answer all your tooth replacement questions. Learn more by calling us today at (705) 445-1121 or fill out our online form.