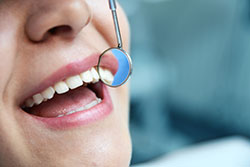 When weighing your options for tooth replacement, it can be tough to understand the benefits and rewards of the different types available. From partial dentures to a full set and dental implants, the alternatives may lead to confusion. Don't let the selection dissuade you from finding the right solution. Consider dentures as an affordable and viable option for your new teeth. Dentures do not replace natural teeth, but instead serve to replace the absence of natural teeth. They allow you to take part in your daily routine and retain function in your mouth as close as possible to that of natural teeth. That means eating, speaking and smiling with the confidence you previously enjoyed.
If you are considering dentures for your tooth replacement solution, Harrison Denture Clinic near Barrie can offer assistance. With friendly and experienced staff that provides personalized care and guidance, we offer comprehensive services from consultation to checkup.
Dentures aren't for everyone, but they present a great option for people looking to replace some or all of their natural teeth.
How Dentures Work and Why they May Be Right for You
Keep in mind the following information or contact Harrison Denture Clinic to find out more about how dentures could help you smile confidently, speak clearly and chew comfortably.
Prosthetics – Dentures are an artificial extension of your natural body. Just like prosthetic limbs, they take some getting used to and often require adjustments to perfectly suit your needs. They will not be able to perform exactly like your natural body, but they can provide a close alternative.
Process – Getting the right fit is a process that can take several appointments and even changes to be made over time. Your gums and jaw will shift, shrink, and change based on how it heals without the presence of teeth. Some people experience bone loss while others develop scar tissue. Your dentures need to be fitted and adjusted to accommodate these changes. Don't suffer in silence or assume that once you have your new dentures the work of fit and function is over. Schedule regular follow-up appointments with your denturist for optimal comfort.
Individual – Each individual is different. With unique oral health concerns, healing times, and preferences for the look and function of their dentures, it is impossible to rely on word of mouth. Turn to a denturist in Barrie with years of experience in order to get sound, custom advice. Friends or relatives can only speak to their own experience, which may not be useful to consider for your particular oral health concerns.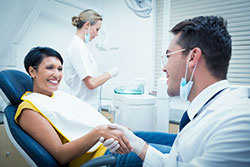 Harrison Denture Clinic offers a range of services that are personalized to meet your needs. From fast, convenient tooth replacement solutions to custom long-term options, we can provide the right level of care and advice. We provide our patients with the latest technology backed by years of experience. Turn to our friendly staff for dedicated services that are focused on providing the comfort, look and quality you expect from your dentures or dental implants.
Contact Harrison Denture Clinic if you are interested in replacing your lost tooth or teeth with dentures. Call our denture clinic near Barrie today at (705) 445-1121 or fill out our online form.