About Us
Ontario Owned & Operated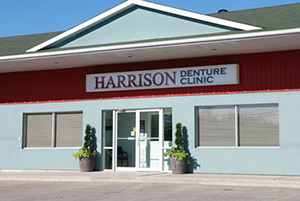 Harrison Denture Clinic in Collingwood, Ontario is owned and operated by Jim Harrison, a Denturist for over 25 years.
Jim and the team are dedicated to providing you with the highest quality care in the most comfortable and friendly setting. We strive to offer you the very best treatment by employing the most advanced technology and techniques, and your overall health and wellbeing is our primary concern.
As well as specializing in implant dentures, our modern, state of the art clinic provides a full range of denture services including new dentures, relines and repairs – directly to the public, all in one location. We also work closely with dentists and oral surgeons in treatment planning and delivering the best possible care to our patients.
What is a Denturist?
A Denturist is a specialist with three years of training solely in the fabrication and fitting of dentures.
Your Denturist is able to provide you with the professional advice needed prior to choosing the denture that best suits your lifestyle and requirements.
This thorough consultation and examination gives you the opportunity to express your concerns and desires for your new dentures. It also allows us the opportunity to assess the oral conditions present and address your needs and expectations.
How do quality dentures improve health?
Good health depends on proper nutrition. It is impossible to benefit from even a healthy diet if we are swallowing our food practically whole and barely chewed. More often than not we alter our diets, eliminating more difficult foods and choosing rather soft foods instead. Often healthy raw vegetables, salads and even steak and whole grain breads are cut out.
It is no longer necessary to suffer or live a limited life because of dentures. There are many new materials, methods and techniques that can be employed in order to make dentures look great, fit well and function beautifully.